Largest Veritas Platinum Partner in the Region
Veritas enables organizations to harness the power of their information, with solutions designed to serve the world's largest and most complex heterogeneous environments. Get industry-leading solutions that cover all platforms with backup and recovery, business continuity, software-defined storage, and information governance.
Protect mission-critical applications and data against planned and unplanned downtime by automating application recovery across physical and virtual environments on major application, server, and storage platforms.
Reduce hardware costs by improving server and storage utilization
Improve effectiveness of high availability plans and failover testing, and validate scenarios without business disruption
Products include : NetBackup, Enterprise Vault, Storage Foundation, Volume Replicator, Cluster Server, BackupExec, Resiliency Platform, Information Map, Data Insight
Our Partnership with
Veritas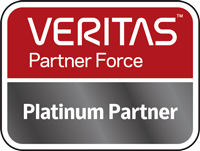 Veritas Technologies empowers businesses of all sizes to discover the truth in information—their most important digital asset. Using the Veritas platform, customers can accelerate their digital transformation and solve pressing IT and business challenges including multi-cloud data management, data protection, storage optimization, compliance readiness and workload portability—with no cloud vendor lock-in. Ninety-seven percent of Fortune 100 companies rely on Veritas today to reveal data insights that drive competitive advantage.
Condo Protego has been a Veritas partner since its inception. Today, Condo Protego is the largest Veritas Platinum Partner in the region, and a Veritas Services Partner. Condo Protego has the largest and most qualified team of Veritas-certified expert consultants in the region, with Expert competency in Archiving, Dynamic Storage and Continuity, Enterprise Backup & Recovery, and Mid-Market Backup and Recovery. Across the entire Veritas portfolio of products, Condo Protego's experience and customer base is unparalleled in this market.
Multi-Cloud Data Management
Disaster Recovery Automation
Archiving (Enterprise Vault)
Enterprise Backup (NetBackup)
Backup Appliances
Tape Replacement and Archive Storage
Desktop & Laptop Backup
SaaS Backup
High-Availability (Infoscale)
Services
Renewals